Our Team
Handprints has a well qualified and experienced staff and management team.
Our Staff Team
In order for us to support your child's development in the best possible way our staff team are chosen not only for their qualifications but also for their experiences and approach to supporting children's development. They all attend regular training and are actively encouraged and supported to be reflective in thier practice.
We operate using the Key Worker system. Each child has a Key Worker who will look after his/her individual needs. This provides parents and children with a special person they can relate to. Children will also be offered a secondary key worker for when their primary key worker is not in the nursery.
Our Senior Management Team
Hannah Wiggin
Handprints Director & Nursery Manager
Hannah has a BA Honours in young children's learning and development (level 6). She also has a level four in health and social care and Btec National Diploma in early years. She has over 10 years experience working for various local authorities with children and over 15 years experience working with children & adults with special educational needs. Hannah is also the nursery Safeguarding lead.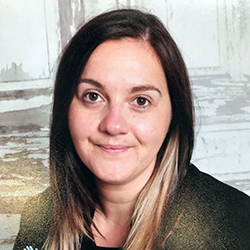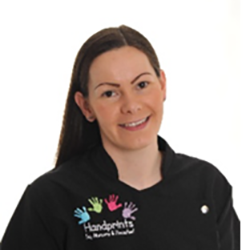 Holly Currie
Deputy Nursery Manager
Currently on maternity leave until June 2018, Holly has a foundation degree (level 5) in young children's learning and development. She has over 12 years' experience working in the early years sector in various settings. She works alongside Hannah and manages the nursery in her absence, she is the nursery's quality assurance lead and parent's as partner's champion and EYFS champion. Holly is the safeguarding lead in Hannah's absence.
Hayley Clayton
Deputy Nursery Manager
(covering maternity leave to June 2018)
Hayley is our safeguarding children's lead. She is level 5 qualified and working towards her BA honours level 6.